As Thailand tourism is year upon year soaring, one of the main pulls of the land of smiles is undoubtedly it's pristine and popular southern islands. With each one almost having their own identity to independent and adventurous travelers, there seems to be something for everyone. One of the islands get's a reputation more than any other, and is the first location to many travelers who want to try their hand at scuba diving.
Koh Tao is famed for it's laid-back vibe, hedonistic approach and abundance of scuba dive shops. Koh Tao's appeal lies in two factors: the availability to dive for the first time, and how cheap it is to do so. With Koh Tao being one of the cheapest destinations in the world to acquire your Open Water Diving Certification, many travelers flock here and either experiment with scuba diving, and eventually (if not swiftly) fall in love with it.
If you fancy exploring the world underwater, and Koh Tao is your first destination to do so, we've got the lowdown on how to prepare for your experience.
Decide if you want to stay at a dive shop accommodation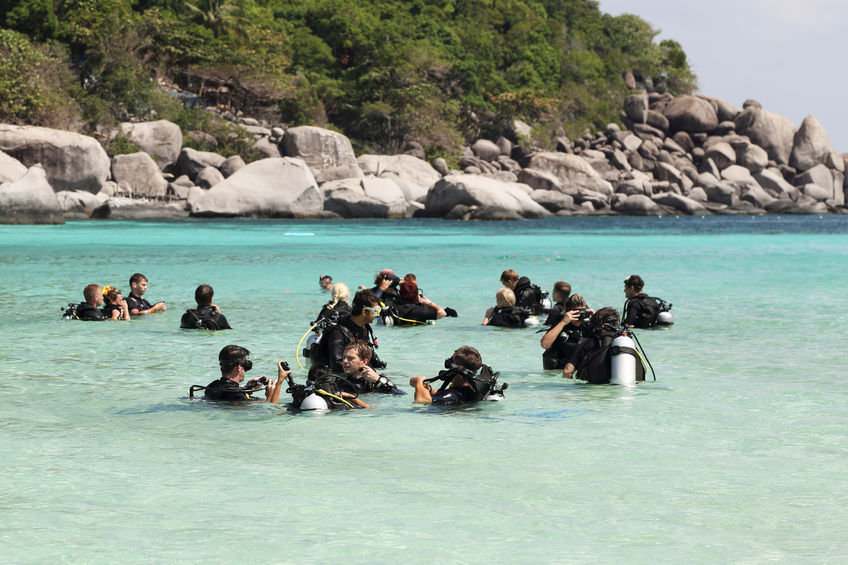 Staying at a dive shop accommodation likely means you'll be apart of a big group of other travelers with the same idea of scuba diving for the first time. Especially when you're doing your Open Water. It could get crowded, but it's great to live and breathe the vibe while you're at it. If this is for you, go for it.
Shop around if you're eager to do so
With more and more dive shops opening up in Tao, it's safe to say tourists are flocking the area. Make sure you don't get ripped off just for the money, and you're comfortable with your instructors. Some instructors might say you're ready when you don't think you are.
If you're seeking a one-on-one dive experience
Everyone is different; so if that means you want a more personal one-on-one dive experience, then discuss that with the dive shops and instructors. Some people learn better that way or just feel more comfortable. The price might be a tad more expensive, but you know you'll be getting the full attention from your instructor.
Don't go partying before your first dive
Due to the Thai islands' laid back nature; it's going to be hard not to have fun. So, whether you're partying at Fishbowl Bar, or on the beach, try keeping it timid if you're diving. You'll only feel it worse in the water the next day!