Whilst most perceptions of Australia are for it's stunning beaches, kangaroos and glorious weather, Melbourne it has to be said, takes more of a European approach. With a restaurant and bar scene that's difficult to match anywhere in the world, along with its love for theater, art, fitness, sport, fashion and cosmopolitan lifestyle, it's easy to see why Melbourne is the most livable city in the world.
One of the main reasons Melbourne evokes that European flair that you'd find in the streets of Rome, Paris or Lisbon is its quirky and personality-filled laneways. When visitors come to Melbourne, they sometimes feel at odds with where they should go, what they should see. But with its laneways and indulging persona, Melbourne is about wandering, snacking and seeing things up close.
And in some of Melbourne's best laneways, you can do all of that.
Hardware Lane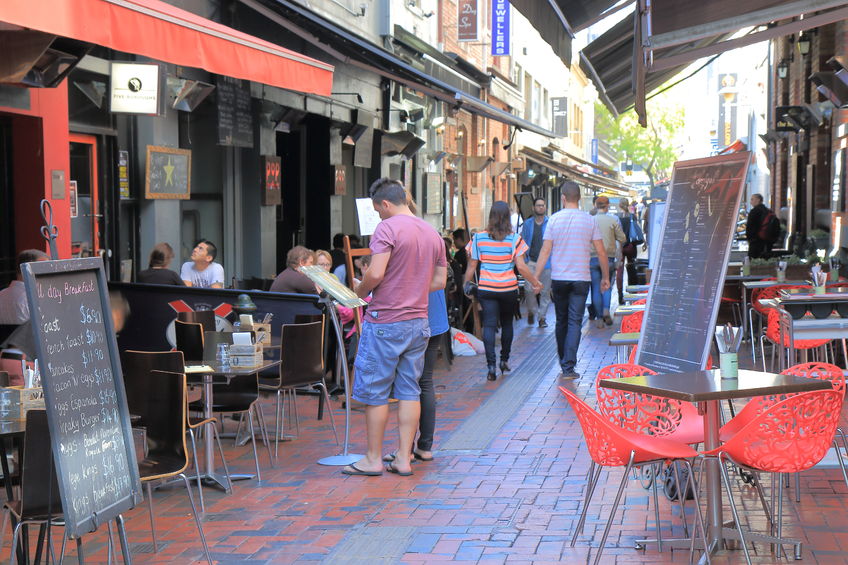 Hardware Lane stands out as Melbourne's most popular laneway for dining out. Sandwiched in between Bourke and Lonsdale Street, Hardware Lane has a flurry of different cuisines on offer including Italian, Mexican, Australian and Asian flavors. Soft spoken yet insistent hosts will attempt to lure you, as they represent their respective venues and restaurants That of course, is all part of the experience and it's better to embrace the vibrant atmosphere than to deny it.
The setting is charming, with candles to light up the table setting, signage of all shapes and sizes, and buildings over a century old still standing firm.
If you want to try Kangaroo meat, and one of Melbourne's newest high rated restaurants on Trip Advisor, Grill Steak Seafood. If you love a constant upbeat vibe with modern, Italian and Mediterranean cuisine, head to Max Restaurant. If you love fresh, sustainable and nothing short of outstanding seafood, head over to Claypots Barborossa.
Degraves Street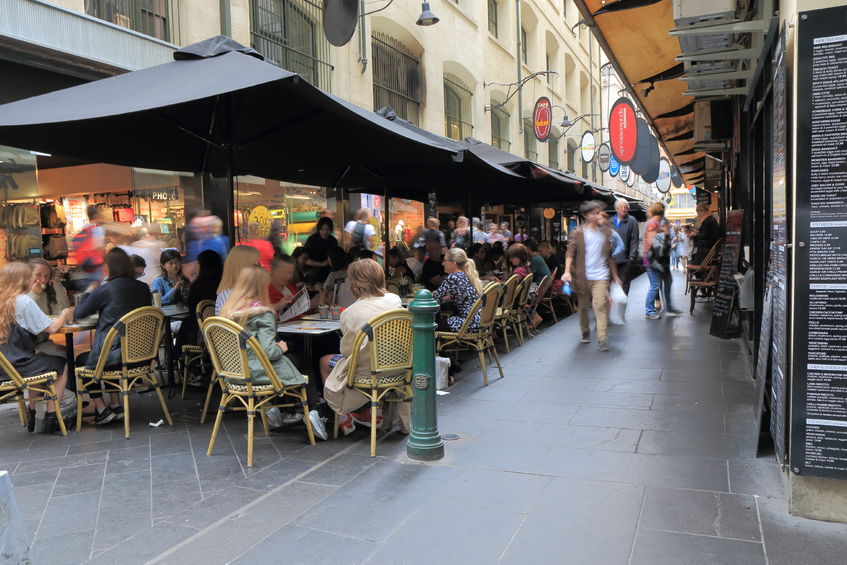 Degraves Street and Centre Place get mixed up because they're directly across each other. Nevertheless, these two laneways are just across the road from Flinders Street Station, the entrance to Melbourne's CBD.  Degraves is the wider of the two, and although seen as a 'laneway' it's actually a street.
With a vibe and visuals that you'd expect from Paris, it's Italian styled cafes that you'll see most; although there's plenty of Tapas-influenced choices to choose from, too.
Centre Place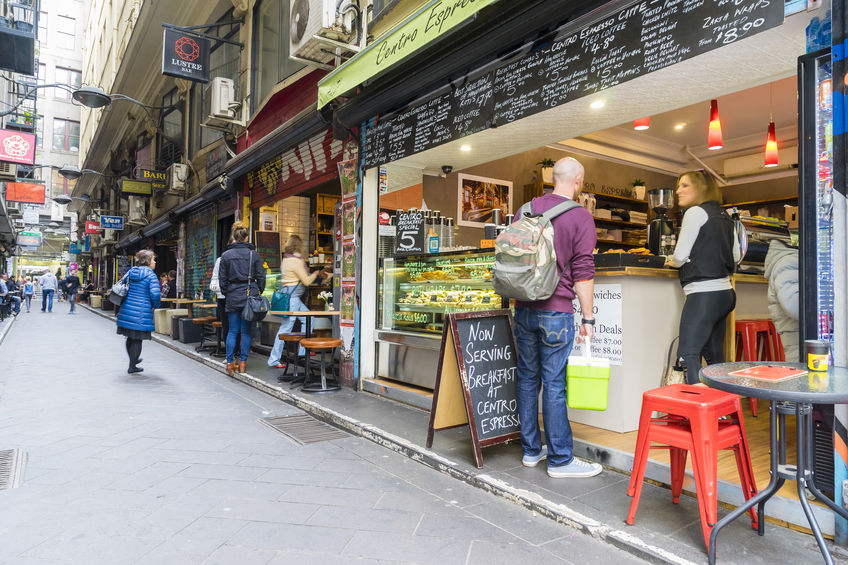 Centre Place is smaller, more run-down and grungy, yet that's exactly what we like. It's not as popular as Degraves, but it may have a little more personality about it. With tons of cheap eats here, you'll be in budget food heaven. If Degraves looks like Paris then Centre Place looks more like Rome, except with soups, sandwiches and wraps will be on the menus.
With all these options that just smash you in the face, we think it's best you make your own decision on food; there are too many to name! Saying that, if you want to get away from it all, there's a 'secret bar' called Hell's Kitchen on Centre Place. It's a floor above, so finding the stairs to the bar might be tricky, but worth the mini-adventure.
Hosier Lane
Laneways aren't just meant to for food and drinks in Melbourne, and Hosier Lane it's arguably the city's most photogenic. A palette of colors from all sides and angles will beckon, showcasing some of the raw and underground talents of Melbourne's artists. From pastels to stencils to spray-painted murals, Hosier Lane is the best laneway for street art. Yet, it'll be difficult to enjoy these walls of color among troves of onlookers, so head there before the usual city rush hour, perhaps before 8 a.m.
AC/DC Lane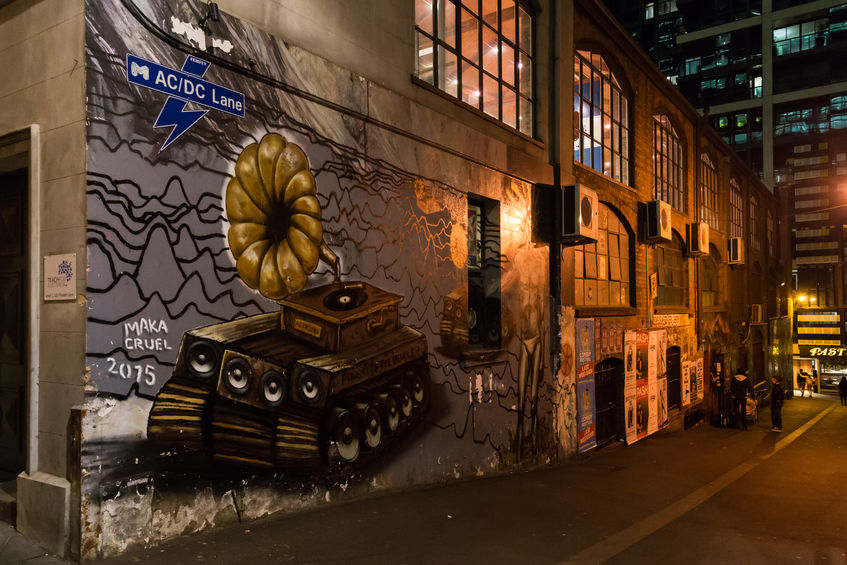 If you ask any Melbournian music fan about which lanes to visit, AC/DC Lane will be the first one they'll mention. The famous band drove through Melbourne's CBD streets and laneways over 40 years ago, and the memory is kept alive in this laneway with it's many murals of the band.
Cherry Bar won't let you down if you want a few drinks and to listen to some real rock and roll music. This place is always lively and busy, so visit with your dancing shoes on.
Got anything to add? Tell us in the comments!