All avid travelers would know the importance of investing in a high quality travel luggage. If you're planning to purchase yours, here are some of the best luggage guaranteed to keep up with your jet setting lifestyle.
Zero Halliburton ZRO 20"
Known as the luggage to travel the moon and back, Zero Halliburton boasts its line of ultra tough luggage. If you're looking for a cheaper one, the ZRO 20″ International Carry-On 4-Wheel Spinner is a good choice. It's shock-resistant and has integrated structural ribs for durability. Its interior is topnotch — with multiple zip, mesh and pleated pockets perfect for highly-organized individuals. Form and function is the top priority of ZRO 20", so expect smooth and safe travel with this one.
Rimowa Salsa Air
Salsa Air has the lightest weight in the entire Rimowa collection, and it has simple packing features — e.g. who doesn't need extra pockets in his luggage? It also has a bright exterior casing that makes it easier to find in the luggage carousel. If you have specific luggage preferences, Rimowa is a popular brand among travelers, and you can guarantee its quality with the high quality materials that they use. They also have different collections depending on the type of traveler that you are. Check out this buyer's guide.
Herschel's Wheelie Outfitter
For travelers who pack light, Herschel is the trendy and top-of-the-mind choice. Their designs are hip and modern, and they produce durable products that withstand rough encounters during travel. Their Wheelie Outfitter travel duffel is a good choice if you want a carry-on that can be converted into a trolley for easy transportation. It even has a laundry bag with draw-cord closure!
Samsonite Lite Shock Spinner
Samsonite is all about Curv technology. It's an innovation that allows their luggage to absorb high energy, perfect for traveling to countries with low temperatures. The Lite Shock Spinner has a self-reinforced organic design for extra durability and four 360-degree multi-directional spinner wheels for easy maneuvering. Other topnotch features include TSA combination fixed lock for tight security, divider pad for organized packing and also functional elastic cross for extra security on packed items. It comes with three colors: sand, black and petrol blue and sizes vary from 55 cm, 69 cm, 75 cm and 81 cm to fit your travel needs.
Eminent Move Air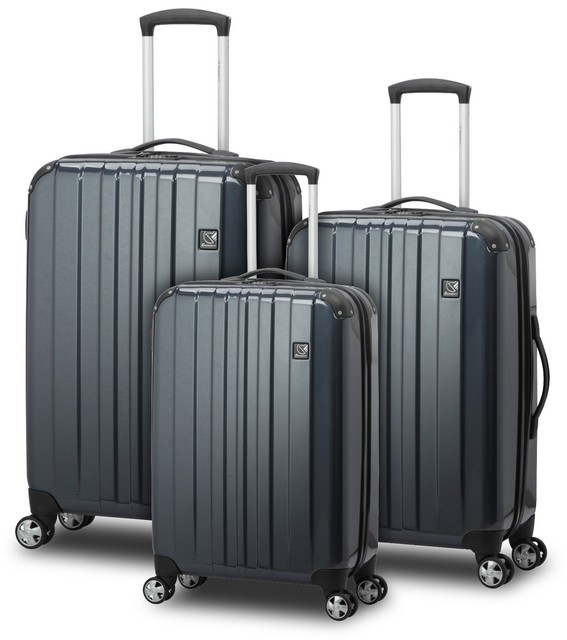 This Taiwanese luggage brand is recognized worldwide for durability and the use of lightweight materials. They have topnotch features like the Integrated TSA Combination locks for security, 360-degree rotatable wheels on four-wheel trolleys for easy maneuvering, even an integrated digital weighing scale to save you from excess luggage. Despite its advanced technical features, it doesn't compromise design.  Plus, their parts are replaceable, so you don't have to throw the whole thing away in the event of damage.
American Tourister
American Tourister's lightweight suitcases are affordable, and they do the job.  Their Tokyo Chic Spinner 77/28 is a bang for your buck, with its smooth rolling wheels and retractable multi-stop trolley handle. Its exterior design is also stylish, good for those who also value design aside from functionality.
Which one fits your travel needs? Tell us in the comments below!